Wicked Horror Show presents: Silhouette streaming now on Prime with director Mitch McLeod, actress April Hartman and composer Michael Vignola
4 months ago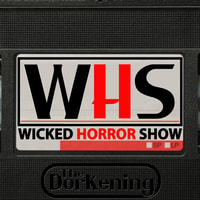 Tonight we talk with the cast behind Silhouette Writer / Director Mitch McLeod Star April Hartman Composer Michael Vignola
This episode is sponsored by Deadly Grounds Coffee "Its good to get a little Deadly" https://deadlygroundscoffee.com
Available on Amazon Prime https://amzn.to/3dNOlOK
Writer / Director Mitch McLeod Star April Hartman Composer Michael Vignola
SILHOUETTE is the story of Jack and Amanda Harms who, after the passing of their young daughter, set out into seclusion to begin their lives anew. Quickly upon their arrival, things go awry when the sins of their past come back to haunt them.
Made for just $25,000, SILHOUETTE has begun winning awards in its early festival run with several more festivals approaching, and will be released later this year through ITN Distribution.
Writen and Directed by Mitch McLeod Stars April Hartman, Tom Zembrod, Jessica Dawn Willis
https://www.facebook.com/absentiapictures/ https://www.facebook.com/ITNDISTRIBUTION
Follow our Guests
Writer / Director Mitch McLeod https://www.facebook.com/MitchMcLeod21 https://www.instagram.com/absentia_mitch/ https://www.imdb.com/name/nm3967762/?ref_=tt_ov_dr
April Hartman IMDb.me/aprilhartman Facebook.com/aprilhartman Twitter: [email protected] Instagram: @april.hartman
Composer Michael Vignola https://www.vignolamusic.com https://www.facebook.com/VignolaMusic/ https://www.instagram.com/vignolamusic/ https://twitter.com/vignola_music
Follow the Dorks
Kevin @Aknuckle
Tony @Tonyhas9fingers
Yo Yo https://www.facebook.com/yossarian.norman https://www.instagram.com/boymeetsphone/ https://twitter.com/BoyMeetsPhone
Leo @LeoPond
The Dorkening Podcast Network https://TheDorkening.com Facebook.com/TheDorkening Youtube.com/TheDorkening Twitter.com/TheDorkening Instagram.com/TheDorkening
---
Writer / Director Mitch McLeod Mitch McLeod is a producer and actor, known for Silhouette (2019), Arc (2016) and Birthday Girl (2016).
Star April Hartman April Hartman is an actress and producer, known for Silhouette (2019), One Mississippi (2015) and Howlers (2019).
Composer Michael Vignola Vignola has had over 80k sync placements, won 7 awards from various film festivals all around the world, and has scored to picture on over 100 projects since 2016 which include feature films, short films, TV series, web series, media, video games, and virtual reality experiences. (HBO, Discovery, NBC, ABC, BBC, CNN, SKY, NASA, History Channel)
Michael Vignola is a multi-award-winning film composer born and raised in New York City. Known for combining a unique blend of Classical, Ambient and Electronic music with elements of sound design. Vignola's track record is a testament to his commitment and love for the craft and is always looking to push the boundaries of creation that you might not expect. Vignola loves to build themes that weave in and out of the storyline in which he says gives the film a musical consciousness. At the age of 10, he began learning piano and also taught himself how to play the guitar at the age of 15 which lead him to play in multiple indie bands in the NYC area from 1997-2008 and traveling all around the country on a Tour called "The Vans Warped Tour" in 2006. It was in 2016 that Michael started composing for film and has since won multiple awards on various projects, to releasing his first solo LP in Dec. 2018 called "The Place Between Time".
I'm going live using StreamYard! Before leaving a comment, please grant StreamYard permission to see your name at streamyard.com/facebook
Find out more at https://wicked-horror-show.pinecast.co
Send us your feedback online: https://pinecast.com/feedback/wicked-horror-show/17009220-4bf0-44da-a9a1-462ca2d5985c