WICKED HORROR SHOW presents: Gabrielle Stone actor, director and author of Eat, Pray, #FML
a year ago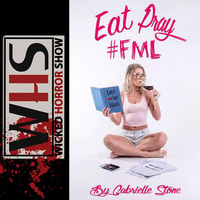 TONIGHT Gabrielle talks her upcoming horror slate, plus we learn about her new book Eat, Pray, #FML.
This episode is sponsored by Deadly Grounds Coffee "Its good to get a little Deadly" https://deadlygroundscoffee.com
Terrificon comes at you August 9-11 at Mohegaon Sun Casino https://www.terrificon.com/
Her film 'After Emma' staring Amy Smart, Dee Wallace & Taymour Ghazi premiering at the prestigious Hollyshorts Film Festival in August. She just shot a horror/sci-fi film called Await The Dawn starring Josh Server that should be our next year.
She's in development to direct a feature film based on a best-selling book. Although she can't really say much about it she's excited to bring a powerful story to the screen. Dee Wallace and Gabrielle Stone are in development to star as a mother daughter for the first time in a powerful drama called Blackbird!
Follow Gabrielle Stone: https://www.instagram.com/gabriellestone https://www.facebook.com/gabrielle.stone.940 https://twitter.com/GabrielleStone https://www.imdb.com/name/nm2740647
Eat, Pray, #FML https://amzn.to/2YgVGCP https://www.eatprayfml.com/
A year and a half into our marriage, I found out my husband had been having an affair with a nineteen-year-old for six months. I filed for divorce and left.
Two weeks later I met a man, and we fell madly in love. It was a fairy-tale romance for a month and a half, and he convinced me to join him on a romantic month-long vacation in Italy. Forty-eight hours before we were supposed to get on a plane, he told me he needed to go by himself. I was devastated. So, I had a decision to make. Either stay home and be heartbroken, or go travel Europe for a month by myself. And staying at home heartbroken? F%*k.
That. What does a woman do when her life has fallen apart and her heart has been ripped out and stepped on twice in two months? She goes on a wild adventure, makes some bad decisions, and does a sh*t load of soul searching. But most importantly? She finds out how to love…herself.
This is so not Eat, Pray, Love.
IMDB Bio: Gabrielle Stone was born on November 20, 1988 in Los Angeles, California, USA as Gabrielle Elise Bourassa. She is an actress and director, known for ZK: Elephant's Graveyard (2015), Speak No Evil (2013) and It Happened Again Last Night (2017).
Find out more at https://wicked-horror-show.pinecast.co
Send us your feedback online: https://pinecast.com/feedback/wicked-horror-show/32e21235-c27e-4506-92a4-8c4b24c549c5