Wicked Horror Show presents: Plaguers 10th anniversary episode with Brad and Josephina Sykes
2 years ago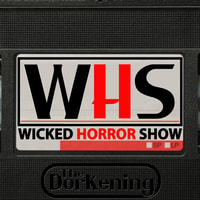 Brad and Josephina Sykes, the filmmakers behind the cult-classic sci-fi horror release PLAGUERS starring Steve Railsback, are with us tonight to celebrate the film's 10tth anniversary.
Deadly Grounds Coffee "Its good to get a little Deadly" https://deadlygroundscoffee.com
When a band of sexy space pirates hijack a fuel-transport vessel bound for Earth, an alien virus known only as "Thanatos" is accidentally released. The contagion mutates its victims, transforming them one after another into ravenous, demonic creatures. Pirates and crew must join together to destroy the undead PLAGUERS as the ship nears Earth, threatening to infect the entire planet.
Wild Eye Releasing has re-issued the film on Blu-ray and DVD, complete with new extras, to celebrate the release.
Brad Sykes is an award-winning filmmaker and author based in Los Angeles. During high school, he wrote and directed multiple shorts (one of which won the top prize in a PBS-sponsored competition) and features on video before attending Boston University's film program, where he graduated cum laude. After moving to Los Angeles and working in studio production and development, Sykes made his feature debut with the horror comedy Scream Queen, starring genre icon Linnea Quigley.
Sykes has since written and directed over twenty feature films, including the first digital 3D horror movie, Camp Blood. Camp Blood was a worldwide success and has become one of the longest running franchises in indie horror, with its first two sequels (Camp Blood 2 and Within the Woods aka Camp Blood 3) also written and directed by Sykes. Sykes' film Death Factory became its distributor's all-time top-grossing title and was also later sequelized. Sykes' other writing-directing credits include Goth, Mad Jack, Demon's Kiss, Plaguers (winner Best Screenplay at the 2008 Estepona Film Festival and Best Actor Steve Railsback at 2008 Shockerfest) and Hi-8: Horror Independent Eight, an award-winning horror anthology called "The Expendables of SOV Horror" by HorrorHound. He also co-executive produced Burying the Ex, the new Joe Dante film starring Anton Yelchin and Alexandra Daddario.
Sykes' films continue to stream on cable and VOD and enjoy releases on DVD/Blu Ray around the world. They have also received attention in publications including Entertainment Weekly, The Hollywood Reporter, The Dark Side, Sight and Sound, Gorezone and LA Weekly and books such as "Jumpstart Your Awesome Film Production Company", "The Mammoth Book of Slasher Movies", "Horror!: The Definitive Companion to the Most Terrifying Movies Ever Made", and "Horror Films by Subgenre". Sykes has taught film production at the International School of Motion Pictures and has also penned articles for periodicals including Fangoria, Indie Slate and Evilspeak.
He currently lives in Los Angeles with his wife, Producer Josephina Sykes, where they operate Nightfall Pictures, a full-service development and production company. Recently, Sykes co-executive produced and co-directed the Hi-8 sequel Hi-Death and published his first book "Terror in the Desert: Dark Cinema of the American Southwest" (McFarland and Co.)
Nightfall Pictures www.nightfall-pictures.com http://www.facebook.com/pages/Nightfall-Pictures/280551435317248 Hi-Fear - In Production! https://www.facebook.com/HiFearmovie Hi-Death https://www.facebook.com/hideathmovie Hi-8 https://www.facebook.com/Hi8HorrorIndependent8 Plaguers www.plaguers.com
Find out more at https://wicked-horror-show.pinecast.co
Send us your feedback online: https://pinecast.com/feedback/wicked-horror-show/3807c806-0925-478d-b570-d56943f06e54