Wicked Horror Show presents:Michael T. Lombardi The Writer / Director / Producers of the fan made film Michael Vs Michael
8 months ago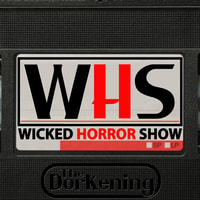 This episode is sponsored by Deadly Grounds Coffee "Its good to get a little Deadly" https://deadlygroundscoffee.com
On Tonights Episode We Talk To Michael T. Lombardi The Writer / Director / Producers of the fan made film Michael Vs Michael
Mixing elements of Halloween, Weird Science, and Nightmare on Elm Street, "Halloween: Michael VS Michael" drops two versions of the iconic slasher Michael Myers into a new setting, populated by new characters, in a world where the Halloween movies exist. With a Halloween deadline looming, best friends and self-proclaimed horror geeks Bobby (Ben Seideman) and Nick (Kyle Geriak) team-up to create an ambitious high school science project on the eve of Halloween. But when an unusual geomagnetic storm hits, it unleashes evil times-two into their small Midwestern town. With the help of their friends Audrey (Ellie Ash) and Willow (Samantha Bauer), the teens find themselves in a race against time to stop two very real and potentially invincible versions of Michael Myers before it's too late... with a surprise ending you don't want to miss!
https://www.mtofilmandtelevision.com/
WRITER, PRODUCER, DIRECTOR MICHAEL T. LOMBARDI
Michael is an actor, writer, producer, and Emmy nominated director. In addition to living and working in Los Angeles where he got his start in the entertainment industry working as an actor and behind the scenes on over 30 Hollywood movies and television productions, he has independently produced a dozen films & TV series via his various production companies since 2000.
BASED IN PART ON CHARACTERS CREATED BY JOHN CARPENTER AND DEBRA HILL
STARRING: MAKENA PETSCH as Aurora JOHN SWANSON as Fred BEN SEIDEMAN as Bobby KYLE GERIAK as Nick ELLIE ASH as Audrey SAMANTHA BAUER as Willow MICHAEL T. LOMBARDI as Michael Myers 1978 TONY IONNO as Michael Myers 2018
Find out more at https://wicked-horror-show.pinecast.co
Send us your feedback online: https://pinecast.com/feedback/wicked-horror-show/3cd5d3ef-e459-46e0-bd48-f0ba221f5626