Wicked Horror Show presents: Crypsis with Paul Anthony Rogers, Eddie Nason, Michael Armata, and Taylor West
2 years ago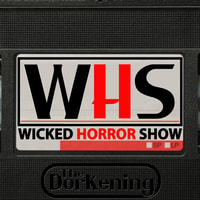 A group of friends make a bet to see who can survive camping on an island for a night. Unbeknownst to them, a strange creature lurks throughout the night terrorizing their every move, and sound is their biggest enemy.
This episode is sponsored by: Deadly Grounds Coffee "Its good to get a little Deadly" https://deadlygroundscoffee.com
and Wicked weekend Horror Festival https://www.instagram.com/wicked_vault/ https://www.facebook.com/thewickedvault
Follow our guests: @CrypsisMovie @Michael_Armata @RealTayWest @Eddie_Nason https://www.facebook.com/crypsismovie/
Predator meets Blair Witch in the new horror survival thriller from Paul Anthony Rogers. A group of friends make a bet to survive on an island. Unbeknownst to them, a mysterious old creature begins hunting them throughout the night. What began as an innocent bet quickly turns into a fight for survival. As night falls, this becomes a fight to the death that no one had anticipated.
Paul Anthony Rogers - Writer / Director plus plays Kyle Paul Anthony Rogers is a writer and director, known for Nothing Personal (2011), Descent to Darkness (2010) and Dear Gammy (2011).
Eddie Nason - plays Ethan Eddie Nason was born as Edward Paul Nason. He is an actor, known for Point Society (2015), On the 7th Date (2016) and Truth Cocktail (2015).
Michael Armata - plays Brandon A native of Boston, Massachusetts, Michael Armata is a New York City-based actor. After relocating to New York in 2013, Michael was accepted to the prestigious Michael Howard Studios conservatory program for theatre, film and television. Michael's studies focused on a range of techniques by Stanislavski, Meisner and Adler.
Taylor West plsy Justin Taylor West is an actor and writer, known for Point Society (2015), Zephyr (2016) and Retribution (2014).
Find out more at https://wicked-horror-show.pinecast.co
Send us your feedback online: https://pinecast.com/feedback/wicked-horror-show/74947c5d-f718-40ef-b77f-6dcf18679fec