Wicked Horror Show presents: This is Our Home with Simone Policano and Jeff Ayars
a year ago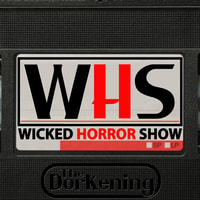 A struggling couple's weekend getaway goes awry when a child arrives in the middle of the night claiming to be their son.
This episode is sponsored by: Deadly Grounds Coffee "Its good to get a little Deadly" https://deadlygroundscoffee.com
Join them at Wicked weekend Horror Festival https://www.instagram.com/wicked_vault/ https://www.facebook.com/thewickedvault
https://www.thisisourhomefilm.com/
Simone Policano https://www.imdb.com/name/nm8213743/?ref_=tt_cl_t4 Simone Policano is an actress and producer, known for Blue Bloods (2010), Auggie (2019) and This Is Our Home (2019).
Jeff Ayars https://www.imdb.com/name/nm4590088/?ref_=tt_cl_t1
Jeff Ayars is a filmmaker, actor, and one-half of the comedy duo "Cannibal Milkshake," known for their parodies featured by Comedy Central, The New Yorker, the Funny or Die Homepage, CollegeHumor, and Elizabeth Bank's WhoHaHa--in which Jeff has portrayed Bradley Cooper, Ryan Gosling, Chris Evans, and James Bond as a stressed-out Dad. Jeff's film work has screened at the Philadelphia Film Festival, NYC Web Fest, NYC Indie Film Festival, Manhattan Film Festival, New Filmmakers Los Angeles, Cinequest, and the Tribeca Film Festival.
Find out more at https://wicked-horror-show.pinecast.co
Send us your feedback online: https://pinecast.com/feedback/wicked-horror-show/a77424e9-faaa-4d7a-b871-6f869a853821