Wicked Horror Show presents: writer/actor Thomas Fisco with his movie Scare Me now on Amazon Prime
6 months ago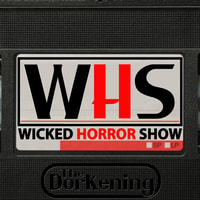 This episode is sponsored by Deadly Grounds Coffee "Its good to get a little Deadly" https://deadlygroundscoffee.com
On Tonights Episode We Talk To Thomas Fisco about the film he wrote and starred in Scare Me now on Amazon Prime
Scare Me is available RIGHT NOW on Amazon Prime: https://amzn.to/2VNTqj1
Follow The Movie https://www.instagram.com/scaremethemovie/
"He is unique and brilliant; a wildly inventive performer. He's impossible to copy and hard to follow."
Chris Bearde, Emmy Award Winning Writer/Producer; Laugh In, Sonny and Cher, Gong Show, Sherman Oaks.
Scare Me
A group of new friends go camping on their last night traveling together to a music festival. They wager a free weekend pass to the winner of a ghost story contest, but a chance encounter targets them before they even get started. As the scary stories progress, the realization begins to sink in that the subject matter is perhaps more connected to reality and their current situation than they first thought. They each face different elements of fear and perception as one by one they are turned against each other.
Directors: Conrad Glover, Mark Stephens Writers: Thomas Fisco, Mark Stephens Stars: DeMarr Wright, Taylor Kilgore, Mark Justice
Follow the movie on Instagram : Scaremethemovieasdfasdf
Thomas Fisco, (stage name "Fiasco"), is an Actor and Comedian born and raised in Las Vegas, NV. Though he spent his high school and college years gaining athletic notoriety, he quickly changed allegiances after discovering an affinity for performing arts in his late 20's. On a dare, he unknowingly entered a Las Vegas stand-up comedy contest and was judged by a panel of talent agents and professional comedians as "far and away the best comic performing". With the encouragement of Emmy Award Winning Producer Chris Bearde he moved to Los Angeles and began studying his new found love on the stage and in front of the camera. He has since been cast in several pilots, TV performances, commercials, music videos, and short and full feature films. He has appeared on stage at the Laugh Factory, Improv Olympic, Second City, The Riviera Comedy Club, and at the annual Unity Shoppe Charity Telethon. His natural reactions and instinctual ability have elevated him beyond his training and experience. His distinct material and unique performance style keeps audiences guessing and gasping for air. He has well developed characters, dead-on impersonations, and can improvise on a whim. In a time when many performers seem cookie-cut from the same mold, Thomas is an entirely different cookie, with better icing.
Find out more at https://wicked-horror-show.pinecast.co
Send us your feedback online: https://pinecast.com/feedback/wicked-horror-show/b35cb4f7-d870-4d15-b1cf-e7eff9ae52bb