Wicked Horror Show presents: DON'T FUCK IN THE WOODS 2 with Director Shawn Burkett and actress Brittany Blanton
3 months ago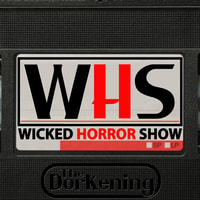 Wicked Horror Show presents: Director Shawn Burkett
This episode is sponsored by Deadly Grounds Coffee "Its good to get a little Deadly" https://deadlygroundscoffee.com
On Tonights Episode We Talk To Shawn Burkett about his Upcoming Film Dont F In The Woods 2 and Stranded ... Shawn runs Concept Media which also put out titles such as Betsy, Falling Grace and Dont F In The Woods
Shawn Burkett was born on January 3, 1984 in Dayton, Ohio, USA. He is a producer and editor, known for Don't F*** in the Woods (2016), Betsy (2018) and The Sleeping Soul (2012).
Brittany Blanton was born on January 24, 1986 in Houston, Texas, USA. She is an actress and producer, known for Don't Fuck in the Woods 2, She Burns in Hell: Accounts from Chamberlain, Maine (2018) and Breaking Vera (2017).
Don't F*** in the Woods 2
The counselors of Pine Hills Summer Camp are getting the grounds ready for the season. While they set up, a mysterious girl enters the camp after a night of bloodshed. And there are things following her as well.
Concept Media Links https://www.instagram.com/cmllc2016/ https://conceptmediallc.com https://twitter.com/conceptmedialce https://www.youtube.com/channel/UCbeKJllKrleMp3UT9izQiqw
Follow Shawn Burketts https://www.instagram.com/smburkett/ https://www.imdb.com/name/nm4624934/?ref_=tt_ov_wr https://twitter.com/smburkett
Follow Brittany https://www.instagram.com/blantonbrittany https://www.imdb.com/name/nm7309160
Follow the Dorks Leo @LeoPond
Kevin @Aknuckle
Tony @Tonyhas9fingers
Yo Yo https://www.facebook.com/yossarian.norman https://www.instagram.com/boymeetsphone/ https://twitter.com/BoyMeetsPhone
The Dorkening Podcast Network https://TheDorkening.com The Dorkening Podcast Network Youtube.com/TheDorkening Twitter.com/TheDorkening Instagram.com/TheDorkening
Find out more at https://wicked-horror-show.pinecast.co
Send us your feedback online: https://pinecast.com/feedback/wicked-horror-show/bdefea08-017a-474b-9b4d-459eca6ac3af