Wicked Horror Show presents: Bobby Coston from I88 Films talking the short Eden
4 months ago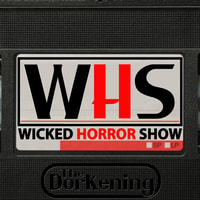 This episode is sponsored by Deadly Grounds Coffee "Its good to get a little Deadly" https://deadlygroundscoffee.com
Watch Eden NOW! https://www.youtube.com/watch?v=2ec17KqrnA4
As three friends head home after a late-night, they find themselves being stalked by a man's greatest weakness.
Stars: Benjamin Abiola, Charles Brakes III, Bobby Coston |
Check out Bobby https://www.imdb.com/name/nm10328015/ https://www.bobbycoston.com/
How the film was made https://www.youtube.com/watch?v=EwvhS6tj4Yk
I88 Films https://www.i88films.com/ https://www.instagram.com/i88films/ https://www.youtube.com/channel/UCkItZylvZb0BvxKX_54mVJA
Kevin @Aknuckle
Tony @Tonyhas9fingers
Yo Yo https://www.facebook.com/yossarian.norman https://www.instagram.com/boymeetsphone/ https://twitter.com/BoyMeetsPhone
Leo @LeoPond
The Dorkening Podcast Network https://TheDorkening.com Facebook.com/TheDorkening Youtube.com/TheDorkening Twitter.com/TheDorkening Instagram.com/TheDorkening
---
IMDB Bio Bobby James Coston Jr. was born in Oklahoma City, Oklahoma to Michelle Johnson, and Bobby James Coston Sr. on April 21st, 1996. His mother is also an Oklahoma native of African American and Native American descent. His father is originally from Texas and is of German and African American descent. Bobby is the youngest of two siblings, Kenise Hollins Johnson and Kendell Coston. He graduated from Mansfield Timberview Highschool in 2014 before attending and graduating with his Associate's degree at Tarrant County College.
Bobby grew up always showing interest in the creative arts. He showed most of his enthusiasm for television and music when watching shows like the Fresh Prince of Bel-Air. In high school, he took a genuine interest in choir and theater. He was also apart of the football and basketball team. Bobby began participating in state-wide choir and theater competitions. Once in college, he began curating content for YouTube and creating his own short films.
Bobby made his film debut in 2018, as "Jaceon" in Semone Brown's 'Snapshot' and "Paul" in Travis Messersmith's 'Good Intentions'. Bobby gained small notoriety for his work in 'Good Intentions' as the responsible older brother of a sick child willing to stop at nothing to help his younger brother. He subsequently has made a name as a leading man in many indie shorts like "Marc" in Ian Guthrie's 'Fallen/Evermore'. He has also garnered sizeable principle work in a number of commercials in the Texas region.
Find out more at https://wicked-horror-show.pinecast.co
Send us your feedback online: https://pinecast.com/feedback/wicked-horror-show/cd45bcaf-8904-4dd9-942b-88f33594ba76