Wicked Horror Show presents: Agramon's Gate writer/director Harley Wallen and Yan Birch (The People Under The Stairs)
8 months ago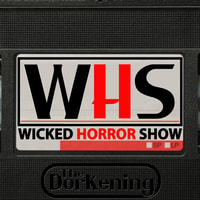 This episode is sponsored by Deadly Grounds Coffee "Its good to get a little Deadly" https://deadlygroundscoffee.com
From writer/director Harley Wallen, and featuring genre icons Laurene Landon (Maniac Cop) and Yan Birch (The People Under The Stairs), Agramon's Gate premieres On Demand February 7th and VOD February 11th.
A psychic reader and Medium is invited to a party. Something goes very wrong and something comes over from the other side to haunt the people from the party. They must solve the mystery before it's too late. Agramon will not be easy to stop.
Also starring Kris Reilly, Calhoun Koenig, Harley Wallen, and Kaiti Wallen, Agramon's Gate will be available on digital platforms 2/11 from Midnight Releasing.
Learn more about Agramon's Gate https://www.facebook.com/…/Agramons-Ga…/
Wicked weekend Horror Festival Feb. 21st - 23rd Mystic CT https://thewickedvault.com/
In 1991, Yan got a major part in Wes Craven's cult horror film The People Under the Stairs (1991), as "The Stairmaster."
Follow Yan: https://www.instagram.com/yanbirchpage/ https://twitter.com/yanbirch https://www.facebook.com/yan.birch https://www.facebook.com/pg/yanbirchfanpage http://yanbirch.com/yan-birch-store
Follow Harley https://www.instagram.com/officialharle… https://www.facebook.com/HarleyMWallen
Harley Wallen
Multi-award-winning filmmaker and actor Harley Wallen has starred in over 40 feature films and TV shows with legendary stars such as Tom Sizemore, Tara Reed, and John Savage among many others.
He started his journey as a Martial Artist early with Judo at age 7 and is now a 5th-degree black belt. Harley also spent time learning other arts (Jiu-Jitsu, Tae Kwon - Do black-belts as well) and Mixed Martial Arts. His other love at a young age was dance as he was an outstanding breakdancer in his teen years. His sheer talent and skill is what landed him his first opportunity in acting as a dancer at the syndicated Swedish TV cult hit 'Solstollarna'! Soon after, he realized he was bitten by the acting bug. Harley then moved from Sweden to the United States to boldly pursue his dreams. After a short stint, these plans got sidetracked by business opportunities as Harley climbed various career ladders. After returning to acting It wasn't long before the roles started coming and the growth he had experienced in the business world started happening to him in the acting world. After the film incentives ended in Michigan, he decided to start making films of his own. Not having a film school background with only limited experience, he decided to go online to further his education in filmmaking and took several more classes and seminars in acting. Finally in 2016 Harley and his wife Kaiti formed the film production company 'Painted Creek Productions'. The one thing he really takes pride in is his commitment to the character he is playing regardless of the size of the role or the paycheck. Harley is now writing, producing, acting and directing and has found his life's purpose.
Find out more at https://wicked-horror-show.pinecast.co
Send us your feedback online: https://pinecast.com/feedback/wicked-horror-show/cd568dad-48b1-4be7-9fef-297cc223321e