Wicked Horror Show presents: Michael Penning author of All Hallows Eve Book of Shadows Vol. 1
5 months ago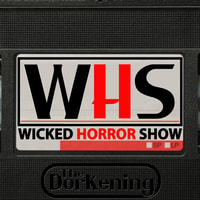 Wicked Horror Show Presents Michael Penning All Hallows Eve Book of Shadows Vol. 1
Michael is an avid fan of Halloween, haunted houses, and things that go bump in the night. When he's not coming up with creative ways to scare the hell out of people, he enjoys travelling, photography, and brewing beer. He lives in Montreal with his wife, daughter, and their black lab, Salem.
Goodreads: https://www.goodreads.com/book/show/53245526-all-hallows-eve
Amazon: https://www.amazon.com/…/B08…/ref=dbs_a_def_rwt_bibl_vppi_i0
This episode is sponsored by Deadly Grounds Coffee "Its good to get a little Deadly" https://deadlygroundscoffee.com
Book Blurb: A century after the witch trials, Salem is still not without its witches...
Alice Jacobs doesn't believe in ghosts... until her daughter is taken by one. When her husband disappears while investigating a series of strange and terrible incidents in the bustling seaport of Salem, Alice is forced to bring her young daughter, Abigail, along from Boston while she takes up the search. But she soon learns of a terrible prophecy that has the entire town bracing for nightfall: one hundred years after being hanged for witchcraft, the vengeful spirit of Rebecca Hale will rise from hell on All Hallows' Eve to claim the souls of Salem's children.
Alice dismisses the old legend as foolish superstition... until Abigail is snatched from her bed by a sinister woman made of smoke and mist.
Desperate to find her daughter before the sun rises and she is lost forever, Alice races against time on a spine-chilling adventure that takes her from forgotten dungeons and gloomy cemeteries to the haunted forests of Gallows Hill. Along with Jonas Hobbes—a roguish sailor searching for his own missing child—she battles deadly supernatural forces and uncovers a dark secret that may be the key to saving Abigail's soul… if only she can survive the most terrifying night of her life.
Author Bio: Michael Penning is an award-winning screenwriter and author of horror and suspense. His films have screened at numerous international film festivals across North America and Europe and his scripts have been awarded prizes in several high-profile screenwriting competitions such as Creative Screenwriting's Next Great John Carpenter Movie Contest and the American Screenwriter's Association Original Screenplay Awards.
Also special guest Phil from Dark Discussions Podcast! http://www.darkdiscussions.com/ https://www.facebook.com/groups/DarkDiscussionsPodcast/ https://twitter.com/DarkDiscussion1
Kevin @Aknuckle
Yo Yo https://www.facebook.com/yossarian.norman https://www.instagram.com/boymeetsphone/ https://twitter.com/BoyMeetsPhone
The Dorkening Podcast Network https://TheDorkening.com Facebook.com/TheDorkening Youtube.com/TheDorkening Twitter.com/TheDorkening Instagram.com/TheDorkening
Find out more at https://wicked-horror-show.pinecast.co
Send us your feedback online: https://pinecast.com/feedback/wicked-horror-show/d82058dd-9630-4c2c-8002-845db70a4bb5