Wicked Horror Show presents:80's horror doc In Search of Darkness director David A. Weiner
5 months ago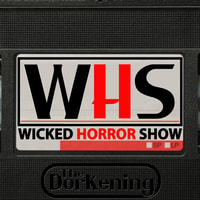 This episode is sponsored by Deadly Grounds Coffee "Its good to get a little Deadly" https://deadlygroundscoffee.com
This week we talk with director David A. Weiner about his latest documentary, In Search of Darkness. An exploration of '80s horror movies through the perspective of the actors, directors, producers and SFX craftspeople who made them, and their impact on contemporary cinema.
In Search of Tomorrow - Kickstarter https://www.kickstarter.com/…/in-search-of-tomorrow-80s-sci…
David Weiner Producer/Director, In Search of Tomorrow & In Search of Darkness
https://www.facebook.com/flyingjava
https://itcamefromblog.com/ https://twitter.com/TikiAmbassador
https://twitter.com/80sHorrorDoc https://twitter.com/80sSciFiDoc https://twitter.com/ItCameFromBlog
https://www.imdb.com/title/tt9442842/?ref=fnaltt1 https://www.imdb.com/title/tt11341742/?ref=fnaltt1
David is the director/writer and producer of IN SEARCH OF DARKNESS, a critically acclaimed four-hour documentary about '80s horror movies, and the director/writer/producer of IN SEARCH OF TOMORROW, a documentary about '80s Sci-Fi movies, for CreatorVC.
He was executive editor of the iconic Famous Monsters of Filmland magazine from 2015 to 2016 for seven bi-monthly issues (FM #282-288), earning the prestigious Rondo Hatton Award two years in a row for Best Classic Magazine.
Prior to Famous Monsters, David logged 13 years working in the trenches at ENTERTAINMENT TONIGHT (TV's longest-running, No. 1 syndicated entertainment news show) writing about/interviewing celebrities and filmmakers as Senior Editor of ETonline.
Creator of the critically acclaimed, Rondo-nominated IT CAME FROM… (ItCameFromBlog.com) retro genre pop-culture site, David has hosted and moderated Comic-Con International panels and screening Q&A's at Arclight Cinemas, the historic Alex Theatre and other venues, is a frequent guest on various podcasts, and has appeared on camera for multiple junkets, red carpet events, and segment interviews.
Find out more at https://wicked-horror-show.pinecast.co
Send us your feedback online: https://pinecast.com/feedback/wicked-horror-show/f16aeb01-c896-403d-8240-6c6679247399