Wicked Horror Show presents: David Howard Thornton, Art The Clown from Terrifier
a year ago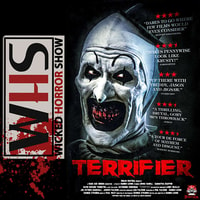 Wicked Horror Show presents David Howard Thornton, Art The Clown from Terrifier. Available on Netflix, A maniacal clown terrorizes three young women on Halloween night and everyone else who stands in his way.
This episode is sponsored by Deadly Grounds Coffee "Its good to get a little Deadly" https://deadlygroundscoffee.com
Follow David https://www.facebook.com/david.h.thornton https://www.instagram.com/davidhowardthornton https://twitter.com/davidhthornton
Terrifier is written by David Leone, stars Jenna Kanell, Samantha Scaffidi, David Howard Thornton
David Howard Thornton was born on November 30th, 1979 in Huntsville, Alabama. He is an actor known for work in stage, film, and voice over. He is best known for his roles as Grandpa Who in the 1st- 5th national tours of "Dr. Seuss' How the Grinch Stole Christmas: The Musical", the voice of Shizoku and others in the video game "Invizimals: The Lost Kingdom", The Joker in the YouTube series "Nightwing Escalation", and Art the Clown in the film "Terrifier".
Find out more at https://wicked-horror-show.pinecast.co
Send us your feedback online: https://pinecast.com/feedback/wicked-horror-show/fa9840bb-c2b3-4945-a6de-b986977fc54f